---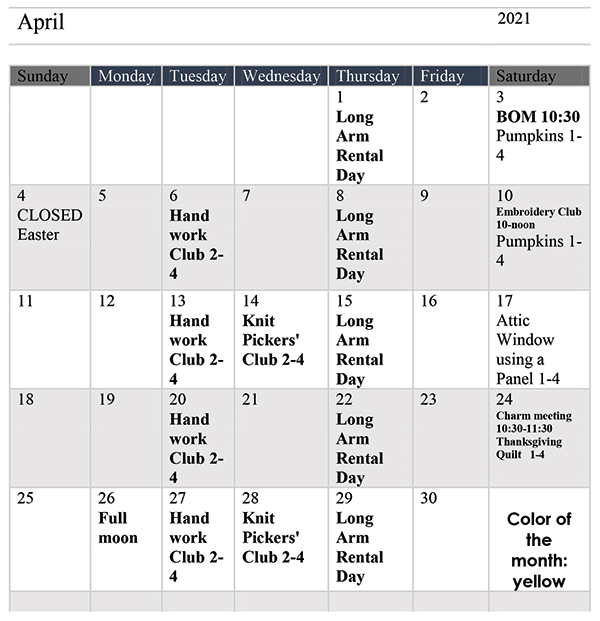 Block of the Month First Sat of month 10:30-11:15 FREE Barb Boyer
Join at any time. You get a free fat quarter if you come to class with the previous month's completed block. This year the challenge will be houses and seasons. Each row will have houses, trees and other "neighborhood" objects. Each house will have a place for a pieced block. Each "row" will be a season: Spring, Summer, Fall and Winter. We'll also have a quilt store, school, "village" shops, church, outhouse, dog house, barn - as many as I can squeeze in!
Hand Embroidery Club2nd Sat. of the month, 10-noon FREE Kathy Sconce
If you want to learn to hand embroider or just brush up your technique, join us on the second Saturday of the month from 10 to noon. You can work on your own projects or you can join the project we are doing. We will be starting Crabapple Hill's Snow Days. This is an embroidered and pieced block. So we will help you through the piecing, tracing and embroidery.
Knit Pickers' Club 2nd and 4th Wed of each month, 2-5 Carol Moler
We are changing up the Knit Pickers= Club. We=re going to knit 2 days a month every second and fourth Wednesday, and we=ll start earlier in the day at 2 and go to 5. The Club is open to all skill levels. We want to share what we've learned, find new patterns, and simply just sit and knit. We may work on some felting projects, fingerless mittens, mittens, and socks. By summer, we may extend the knitting time into the evening.
Hand Sewing Club every Tuesday afternoon 2-4
This club is open to everyone. Bring your hand sewing (embroidery, binding, knitting, crochet, etc) and sit & stitch. During covid, we sit 6 feet apart and wear our masks, but at least we can share our projects, get a little stitching done and just enjoy the companionship.
Other Classes
TBA Our schedule is limited this spring because of the pandemic. Face masks will be required in class and space will be limited. Classes will not run through lunch, so no eating (snacking & water okay, but no lunching). Bathrooms may or may not be available, but there are facilities within walking distance.
Please check the calendar regularly because we will swap out classes as needed and add others as we get back to more normal times. Machine quilting, machine applique, long arm classes, hand quilting and hand applique will also be coming back-I'm hoping by summer!
We may also teach the Elk Quilt, once the fabric comes back in sometime in April. And we're (meaning mainly Jean) are always sewing on new things, so those quilts may also be added to the schedule.
April Classes
Attic Window Saturday April 17 1-4 $30 Barb Boyer
Take a panel (or two, always recommended), cut it apart and turn it into an attic window marvel! Skills learned: y-seams or inset seams. You will have a choice or using a pattern or creating your own design using your panel. All it takes is a panel (or two), and window sill fabric!
Crazy Pumpkins Saturdays April 3 & 10 1-4 $35 Barb Boyer
This quilt is like a stack and slash quilt-with a little more organization. Actually a lot more organization. But I've got it all figured out and sometimes organization is just over rated. Learn this fun way to stack, cut, rearrange and sew to create whimsical looking pumpkins - no two pumpkins are quite alike, which makes this style of sewing so charming. Once you've done one, you'll be itching to do her dogs, cows, barns, santas, flowers.....
Thanksgiving Quilt April 26 1-5 $30 Barb Boyer
I used Thanksgiving fabric for my quilt, but the quilt is essentially a pieced nine-patch scrap quilt. This is an easy strip pieced quilt with an old fashioned feel. Choose darks and mediums for the blocks and a neutral background that compliments. Did I mention that the left overs went into the Bear Paw Quilt? Scraps and Scraps, it's fun to use it up.
May Classes
Lone Star Quilt Saturdays May 1, 8, 15 1-4 $35 Barb Boyer
This is the perfect "next" quilt for everyone who has taken the beginning quilt class. You will build on your skills, like learning how to do inset seams. All you need is 6 fabrics plus a background. It will be helpful if you have your fabrics chosen before class, so just come in and I'll help with that. The class has three sessions and by the third session you will be in-setting your squares and triangles, completing the inside of your quilt.
---
Discount Policy
We will honor only one discount -- whichever is largest. You can't combine a 10% with a 25% discount to get a 35% discount. On this we can't be bribed.